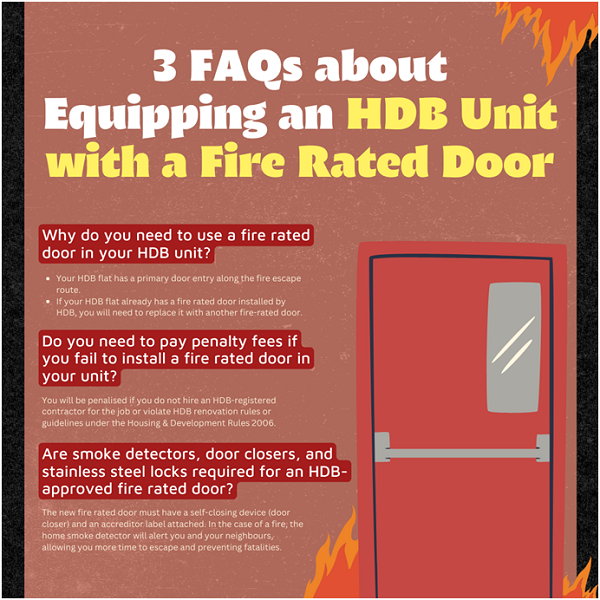 Using fire rated doors intends to keep fire and smoke from spreading throughout a building or structure. Hence, many HDB units must use one under specific circumstances. Here is a list of frequently asked questions about equipping an HDB unit with a fire rated door.
#1 Why do you need to use a fire rated door in your HDB unit?
There are two situations when a homeowner needs to equip their HDB unit with fire rated doors. They are:
1. You need a fire rated door if your HDB flat has a primary door entry along the fire escape route.
An HDB main door within 3 metres of the nearest elevator or staircase will require a 1/2-hour fire rated door. A solid wooden door is acceptable if your main door is not more than three metres from the nearest lift or staircase.
2. If your HDB flat already has a fire rated door installed by HDB, you will need to replace it with another fire-rated door.
It is frequently the case if your main door is a double leaf, meaning it has one tiny and one large panel. In that situation, you should replace your primary door with a fire rated door.
It is also imperative to hire an HDB-licensed contractor to install your fire rated door in both situations. They will need to get HDB permission to change your HDB door on your behalf.
#2 Do you need to pay penalty fees if you fail to install a fire rated door in your unit?
You will be penalised if you do not hire an HDB-registered contractor for the job or violate HDB renovation rules or guidelines under the Housing & Development Rules 2006. You might pay a fine of up to $5,000 and additional penalties if you are found guilty of failing to get an appropriate fire rated door from an HDB-registered contractor.
#3 Are smoke detectors, door closers, and stainless steel locks required for an HDB-approved fire rated door?
The new fire rated door must have a self-closing device (door closer) and an accreditor label attached. In the case of a fire, the home smoke detector will alert you and your neighbours, allowing you more time to escape and preventing fatalities. Instead of the typical push lockset, your fire door should feature a stainless steel lock that can resist greater temperatures in the case of an emergency.
Liminal is well-known for creating unique HDB and landed property gates. They offer timely customer service and high-quality materials to help consumers attain the appealing environment they seek with modern HDB gate design. Visit Liminal's website to learn more about the firm and its services, including its HDB main door promotion.