Encouraging the public to check out your brand is never an easy task. You will have to learn various marketing techniques to learn the best ways to capture your audience's attention and invite them into your retail space. You will need to understand content marketing, online advertising, and events management in Singapore to make a profit and ensure that your business remains relevant in this fast-paced world.
Creating out-of-this-world visual merchandising displays is one of the best ways to make your retail space appealing to your target audience. This marketing practice utilises your shop's interior design, floor plan, lighting, technology, and virtually every element in your establishment to help you create an intriguing and inviting store.
However, using your retail interior design in Singapore to market your brand and products is not as simple as it seems. You will need to research as many details about it as possible to see if your business can benefit from such a marketing tactic. Moreover, consider learning about these four elements necessary for successful visual merchandising displays:
4 Things You Need To Create Effective Visual Merchandising Displays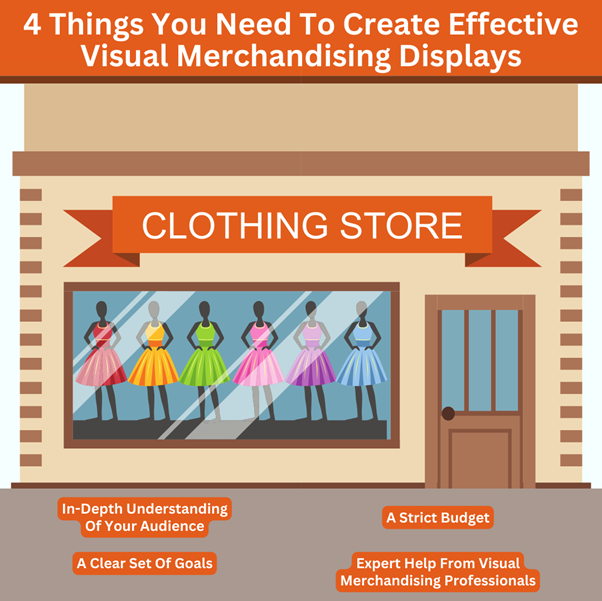 1. In-Depth Understanding Of Your Audience
Visual merchandising displays will be uncomplicated if you know everything your audience finds intriguing. By using various trendy elements that could cause them to evoke a specific emotion and push them to check out your business, you can gain a lifelong customer who will help you keep your humble shop operational.
2. A Clear Set Of Goal
Like every activity of an events management company in Singapore, your displays should have a clear direction. These objectives will allow you to make sound creative and logistics decisions that will drive sales to your enterprise.
3. A Strict Budget
Like other experiential marketing tactics in Singapore, setting up a visual merchandising display costs quite a hefty sum. If you fail to create and follow a budget, you may lose more money than you have—putting your business at risk of experiencing various concerns.
4. Expert Help From Visual Merchandising Professionals
Creating visual merchandising displays is more complicated than some people think. If you are experiencing difficulties setting up a visually-appealing store design and layout, you can seek help from an expert visual merchandiser. You can even ask them to help you settle on a theme for your displays that suit your campaign and brand well.
Are you considering setting up a few visual merchandising displays? Let Dezign Format help you! Check out its website to learn about its expertise in creating jaw-dropping store displays.