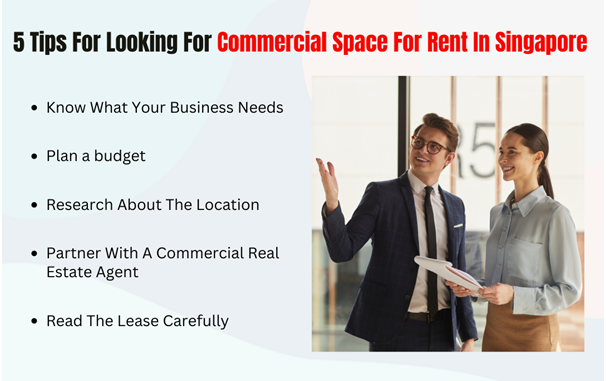 Finding commercial real estate to rent can be a challenging undertaking. But, with careful preparation and investigation, you may locate the ideal location for your company's requirements. Here are five suggestions to remember when searching for commercial space for rent in Singapore.
5 Tips For Looking For Commercial Space For Rent In Singapore
1) Know What Your Business Needs
It's crucial to ascertain your company's needs before looking for commercial space. Consider the amenities you require, the location, the type of business you are operating, and the size.
For instance, if you require a lot of storage space, you should search for a location with a sizable storage area. On the other hand, you should search for a place in a central area if you require a space for rental that is simple for your clients to access.
2) Plan a budget
Setting a budget before you begin your search is essential because industrial space for rent in Singapore can be pricey. Make a budget for your monthly rent, and consider additional expenses like utilities, maintenance fees, and parking charges.
Understanding your spending limit will enable you to focus your search and select a space you can afford.
3) Research About The Location
Your company's performance may be significantly impacted by the location of your commercial premises.
Ensure the area is convenient for your employees and clients before renting a small B1 industrial space for rent in Singapore.
Choose a place close to public transportation, has plenty of parking, and is in a secure neighbourhood. You might also want to look into the local demographics to ensure the region is good for your business.
4) Partner With A Commercial Real Estate Agent
Finding the ideal location for your company can be easier if you work with a commercial real estate professional. A competent agent can guide you through the space for the rental procedure and will have in-depth knowledge of the neighbourhood market.
They can also aid in lease negotiations and guarantee that you are receiving a fair bargain. Make careful to pick an agent who has dealt with companies like yours in the past.
5) Read The Lease Carefully
Read a lease thoroughly and comprehend all the terms and conditions before signing it. Pay close attention to the lease's duration, potential rent increases, and maintenance obligations.
It's crucial to comprehend the consequences of violating the lease and the procedure for renewing it. Before signing the lease, talk to your landlord or real estate agent about any issues.
Expand your business with LHN Group Space Resource, where you can rent office space. Visit their website to learn more about the lease and agreements.