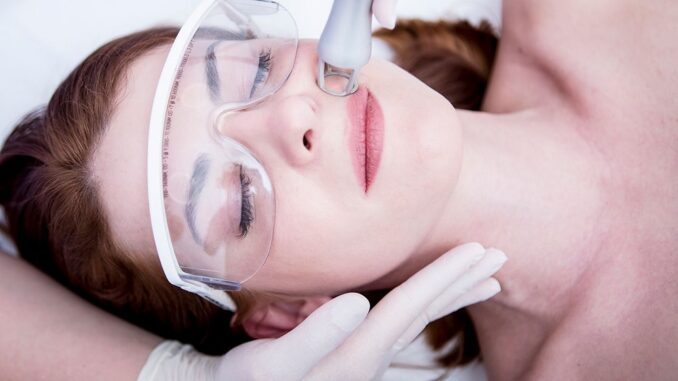 We take excellent care of our skin to make it look flawless. Those who have attained a certain age and feel like their skin has lost its glow try to use various anti-aging or glowing products to regain youthfulness. A few spots on the face are a bit stubborn that is caused due to sun or pollution that is named freckles, pigmentation, or blemishes. This needs treatment or a laser surgery called pico laser.
What Is A Pico Laser?
It is a laser treatment to treat the spots under your eyes. This applies not to everyone but those with blemishes, acne scars, and dark spots; for them, this treatment is necessary to clear spots. Not only spots, but this treatment also helps to remove tattoos and generate collagen, which helps to turn the skin smooth and glowing.
How Is It Done?
Firstly, an intense laser light focuses on the spots it is of strong frequency. So there are uncountable dots of light.
Secondly, The laser light penetrates through the skin, lightens the dark spots, and makes it look smoother.
Finally, the laser will help form new collagen through exfoliation and create a unique texture of the skin with an even skin tone.
What Do They Treat?
It is a kind of pigmentation on your skin that appears like brown spots; it spreads automatically. So this laser treatment will help fade up those spots, so they are not visible.
Many face problems regarding pores, wrinkles, white patches, and dryness; they lead to uneven skin tone. Pico laser will help you produce collagen and close the open pores, and if there are rashes due to dryness, it also heals them.
Not only it removes spots, but it also helps in removing scars and tattoo marks and makes the skin spotless.
Many of our lips get darkened due to too much sun exposure or using cosmetics and not taking proper care afterward. Lips are very delicate, so good care is needed. So Pico laser will help lighten the lips' dark patch by producing collagen and making it smooth and supple.
So if you are facing the above problems and not getting the right solution, then consult a good dermatologist and try this laser technology to get spotless and glowing skin. But there are a few limitations as well. Too much laser treatment can have adverse effects as it can form white spots on your skin. So try not to overdo it.