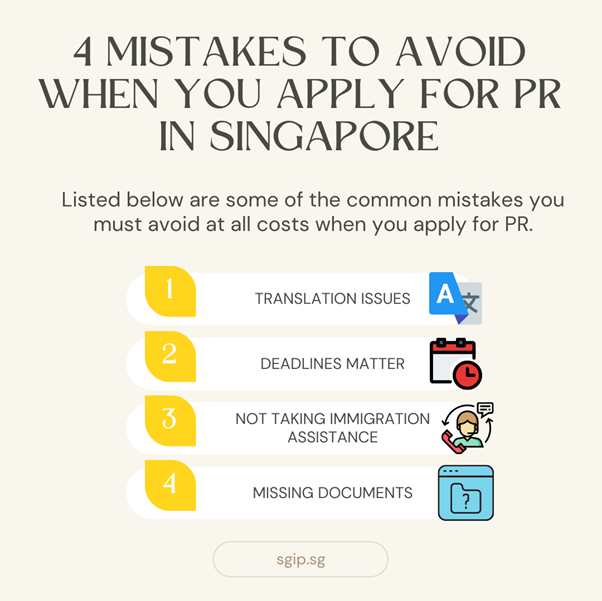 Becoming a permanent resident (PR) is a long, winding road. Apart from filling in the PR application in Singapore, there are many things you need to consider. Otherwise, you might overlook some things that could cause a possible turndown with your application for PR.
Since you have not submitted your application for PR in Singapore, you can still make changes and polish everything, from form to PR requirements.
Listed below are some of the common mistakes you must avoid at all costs when you apply for PR.
1. TRANSLATION ISSUES
Since the official business language of Singapore is English, your PR requirements should be in English. But make sure you do not use Google Translate since its translation can be inaccurate due to a lack of revision.
To guarantee your PR requirements will have an accurate English translation, consider reaching out to a PR application agency to help you translate them.
2. DEADLINES MATTER
Even though there is no exact deadline for a PR application in Singapore, some of its PR requirements are time-sensitive.
Your payslip, for example. Before attaching it with your PR application, make sure it is the last six months of your payslips from your Singapore employers.
Not following that instruction can cause trouble with your PR application.
3. NOT TAKING IMMIGRATION ASSISTANCE
The rules of ICA can be tricky, and sometimes the dos and don'ts are hard to understand. Instead of knowing what each line means, consider hiring a legal immigration consultant to grasp everything you need to know.
4. MISSING DOCUMENTS
In Singapore, incomplete PR requirements can be a factor of rejection. That is why you should double-check if you already have attached everything before clicking on the submit button.
Need Extra Help With Your PR Application?
Reach out to Singapore Immigration Partners! They are a PR application agency in Singapore that has been helping many people become PR. Contact +65 6980 0668 or leave a message on their website if you are interested in Singapore Immigration Partners!