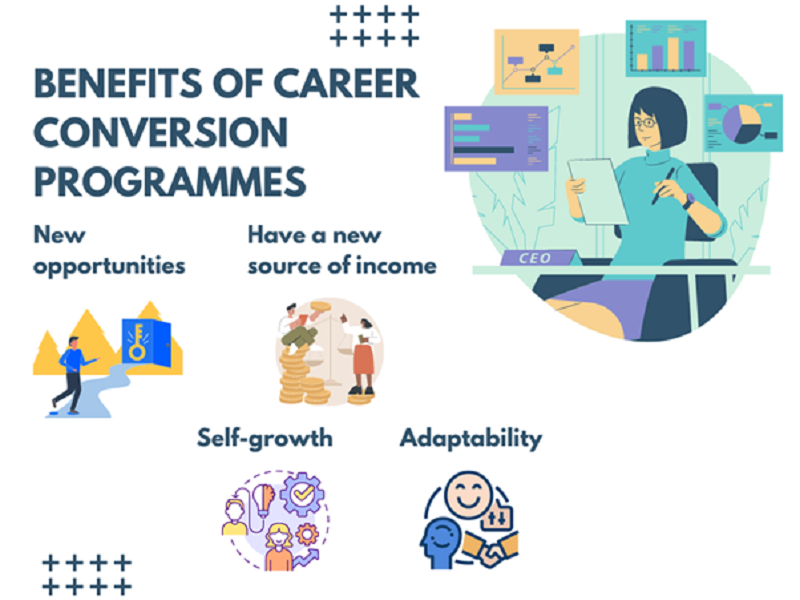 When you find your current career unfulfilling, or you want another source of income apart from your work, you need to upskill. Workforce Singapore's Career Conversion Programmes aim to reskill mid-career individuals who desire to tackle a new path through training.
Besides new career opportunities, some people try to learn new things and skills to become well-rounded workers.
Here are the reasons why you should consider Career Conversion Programmes:
1. New opportunities
Some people learn a new skill to turn their careers 180 degrees. For example, an accountant may attend sewing classes for beginners to learn how to sew clothing and accessories. They may leave their accounting job to put up a clothing line business.
Some people want to upgrade their skill set to open more opportunities in the industry. For example, an SEO writer enrols in a social media marketing course to become more well-rounded in digital marketing.
Remember, employers often opt for talents with wide skill pools.
2. Have a new source of income
New skills can also mean a new source of income! Some working adults have side hustles besides their permanent job. For example, an accountant who finished an SEO course in Singapore can work as a freelance writer with a flexible schedule while being full-time employed in a different company.
Hence, they have two sources of income; one from their full-time job and another from their part-time SEO writing job.
3. Self-growth
Learning new things and upgrading your skills bring a different sense of accomplishment to the person. Increasing your value in the market, opening more opportunities, being well-rounded and adaptable, and most importantly, knowing that you can do more things bring a sense of pride and joy.
4. Adaptability
Knowing how to sew is not enough to be successful in the fashion industry. One day your business will grow and force you to manage the hiring, finances, fashion marketing, and other aspects of the business.
You can adapt to the changes and growth quickly by learning new skills.
What are you waiting for? Start looking for corporate training courses in Singapore.