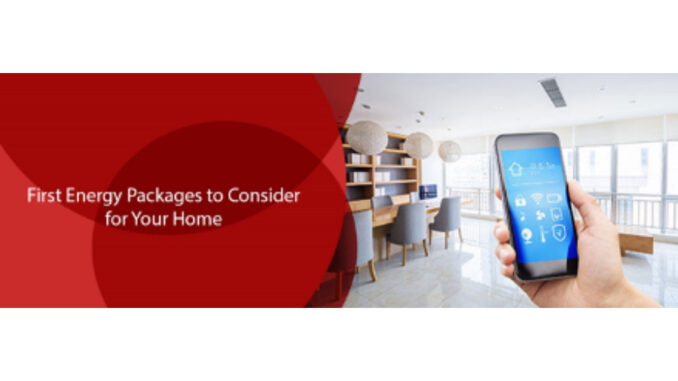 Most modern homes are incomplete without smart gadgets. These gadgets can add features to your home which enhance various aspects of it. The ambience and functionality of your home, can be greatly improved with smart home automation.
Since smart home automation has become increasingly popular over the past few years, options for these gadgets on the market have also increased. This is why it can get overwhelming to shop for smart gadgets. There are too many options available, and if you are new at this, it's difficult to know which source is most authentic.
One platform a lot of people trust for smart home automation is FirstEnergy. By opting for their gadgets, you can transition from a regular home into a smart one in no time. What makes things even better is the fact that FirstEnergy offers different bundles to make your shopping even simpler. The following are some of the basic smart home packages which your home may need.
Energy Efficiency Starter Kit
The energy efficiency starter kit consists of three basic smart gadgets which will help you create a more eco-friendly home. Since these gadgets consume less energy, you will also save money on electrical bills. The gadgets included in this package are as follows.
A thermostat is one of the most important gadgets in any home. The Google Nest thermostat is particularly essential since it directly affects your home's comfort. With this gadget, you can rest assured that your home will remain cozy as ever throughout the year.
Sengled Wi-Fi LED Soft White Smart Bulbs
These bulbs are an excellent way to improve your home's visibility. The white light works best for rooms where you want good visibility, such as your home office or study. These bulbs can be controlled remotely and consume much less energy than old incandescent bulbs.
If you're looking to control more of your home using your voice, the Google Nest Mini is the right gadget for you. All you need to do is say a few commands, and this smart speaker will perform a wide range of virtual tasks for you with minimal effort.
Indoor Lighting Control Package
This package is perfect for the purpose of improving your home's lighting. If you want to create ambient lighting in your home, these two gadgets are the pair you need.
Sengled Smart Wi-Fi LED Multicolor A19 Bulb 2-Pack
Whether you want to hold a holiday-themed event, or simply like your home's lighting to be a certain way, these bulbs are the perfect addition to your home. They provide you with a wide range of colors and customization options, all from an app in your smartphone. These smart LED bulbs can help you achieve the look you want for your home.
Wemo WiFi Smart Plug 3-Pack
All your plug-in devices can become a lot more versatile using these smart plugs. You can use smart plugs to convert any regular devices into smart ones, which can be very convenient in certain situations. From lamps to entertainment systems, a smart plug can turn a lot of your dumb devices into smart ones.
Smart Kitchen Package
The kitchen is one of the most important rooms in your home. The following are the gadget in this package for an elevated experience.
Once again, a smart plug can make a lot of chores in the kitchen easier. This is because there are a lot of smaller appliances there which may become easier to use with the addition of smart features.
Google Nest Hub Gen 2 Digital Assistant
This gadget can help you keep an eye on not only kitchen-related gadgets, but also the rest of your home while you work in the kitchen. Surveillance is an important part of keeping your home safe, and the Nest Hub can make the task much easier.
Outdoor Security Starter Package
The importance of home security is understood by most homeowners. This applies to all parts of your home. Outdoor security is just as important as indoor security, which is why certain gadgets are dedicated to protecting just the outdoors. The following are the gadgets included in this particular package.
Sengled Outdoor Motion-Sensor Floodlight
A floodlight has features perfect for security purposes. Its motion sensor can detect someone's movement within a 30 feet radius. With its wide-angle detection, it is difficult to miss any intruders. Once detected, an intense, blinding light lets the visitor know that your home is occupied and their presence has been detected.
Google Nest Doorbell – Battery
With this gadget, you can get a real-time video of the activity at your home's front door. Not only does it make monitoring easier, activity can even be recorded for a later playback. This means you don't have to worry about missing out, even when you're away from home.
Bundling for Convenience
It can be difficult to buy smart gadgets for your home with limited knowledge, but some sources offer tools to simplify the process. Bundles can help you decide what to buy by grouping together gadgets which work well together. This can be according to a specific room in your home, such as the kitchen, or to add a particular characteristic to the overall living space, such as bundles for energy efficiency.
Bundles are a mutually beneficial exchange for both the buyer and the seller. The seller benefits because a single customer is purchasing multiple gadgets from them, and the customer will have one convenient set of gadget to fulfill their needs. These FirstEnergy packages will do the same for you.