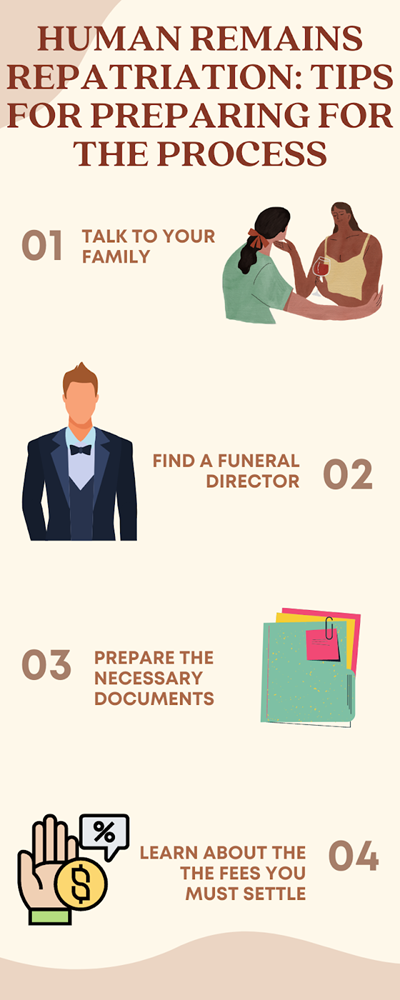 Losing a loved one is something everyone does not want to experience—especially if their departed needs human remains repatriation since they resided abroad when they passed. The thought of not being able to spend time with them during their last moments on earth can be an overwhelming reflection to have—but its existence only proves that you have a special place in your heart for your departed friend or family member.cost of repatriation
Going through the process of human remains repatriation is not an easy feat. To ease the stress and weight of the process, here are a few tips you can follow to prepare yourself for repatriating your departed loved one:
Talk To Your Family
Sitting down and sharing your thoughts and feelings with your family members can relieve weight off your shoulders and chest. You can talk to them about your memories with your departed loved one or your worries about the cost of repatriation to clear your head and feel reassured.
Find A Funeral Director
Human remains repatriation services require a process that is much more complicated than arranging a local funeral. Thankfully, you can work with a funeral director who specialises in repatriation cases and can assist with your procedure.
Prepare The Necessary Documents
According to the Ministry of Foreign Affairs, you need to obtain the deceased's death, embalming, and sealing certificates, as well as a coffin export permit and an airway bill to bring their body back to Singapore. Depending on the funeral director you work with, the repatriation costs you need to settle could cover the expenses for these files.
Learn About The The Fees You Must Settle
Like local funeral arrangements, repatriation costs depend on various factors. You can ask your funeral director or the consular officer assigned to your case about the amount you must have to transport and bury or cremate your deceased.
Flying Home understands how difficult it is to face the passing of your loved one abroad. They want to take the stress off your shoulders through their human remains repatriation services, which you can learn about by visiting their website below.